Marilyn Monroe Death – Too Many Drugs in Her System
September 7, 2018
Movie actress and showgirl Marilyn Monroe, born Norma Jean Mortenson, died on the 5th of August 1962 in Los Angeles. The flamboyant actress was born on June 1, 1926. She ended her life lying naked on her bed with a telephone in one hand, and stone dead. Empty pill bottles lay around the room, and these were to treat her depression. Los Angeles police concluded that Marilyn Monroe died as a result of a self-administered overdose of sedative drugs.
Marilyn Monroe was famous for her beauty and voluptuousness. Monroe won international repute for her sex-symbol movie roles. Her films included Gentlemen Prefer Blondes, and There's No Business Like Show Business and others. She is famously remembered from the movie The Seven-Year Itch. There she stands over a subway grating with her white skirt billowing up around her from a blast of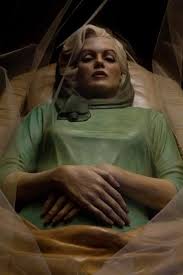 air from a passing train.
Marilyn Monroe Death – Depression, Prescription Drugs, and Probably Suicide?
By 1961, Marilyn Monroe was so depressed that she was under the constant care of a psychiatrist and lived as a recluse in her Brentwood, Los Angeles, home. It was her maid, Eunice Murray, who on the night of August 5, 1962, wondered why the light was still on in the bedroom of the 36-year-old Marilyn Monroe. On investigation she found the door locked and no response from Marilyn upon knocks and calls. The maid called Marilyn's psychiatrist, Dr. Ralph Greenson. He managed to gain access to the bedroom by breaking a window. He called the police, and an autopsy found a fatal amount of sedatives in her system. Her death was ruled as probable suicide.
Many Conspiracies Surrounding the Marilyn Monroe Death
Just like with Elvis Presley, there have also been many conspiracy stories surrounding the Marilyn Monroe death and her affairs with the Kennedy brothers. Did they kill her or have her killed?
Even in the 21st century, Marilyn Monroe remains an icon and the unknown details of her final performance are also shrouded in mystery and intrigue.
Today, more than half a century later, fans from all corners of the globe gather near Monroe's crypt at Westwood Village Memorial Park to mourn her death. Former Los Angeles County prosecutor, who was at her autopsy, didn't believe that the actress took her life in 1962. He claims to have listened to secret tapes that Monroe made in the days before she died, suggesting the actress wasn't suicidal. Books, magazines, documentaries and films have all tried to suggest how Marilyn Monroe died, but the intrigue continues.
Marilyn Monroe Death – A Small Funeral of guests

Married and divorced three times, when she died, New York Yankees Star, Joe DiMaggio whom she married in 1954, was among the attendees at he funeral. Marilyn Monroe lay in an open bronze casket during the non-denominational rites. She wore a green sheath dress and a green scarf around her neck. In her hand was a bouquet of baby pink rose from DiMaggio. Describing her as warm, shy, sensitive, impulsive and afraid of rejection, Less Strasberg, close personal friend, delivered her eulogy to the 31 invited guests. The service was held at the small chapel at Westwood Memorial Park.
Marilyn Monroe Death – The Best Memories
The world still hasn't forgotten the life of the smouldering sex goddess. Maybe she can be relieved that the world will remember her as the young vibrant woman she was. Thats how she would like it because she herself said 'I know I have to die, but I hope I don't have to get old and sick to do it.' Desperately craving the adoration she got from her fans, the young, sexy star, through a premature death, will be remembered in a way she would want.
For funeral cover quotes online, please use the form above the article
All info was correct at time of publishing