Inscriptions on Headstones in Memory of a Loved One
July 15, 2018
In the past, craftsmen carved tombstones from soft slate, and the inscriptions on headstones were prone to wearing away and crumbling because of the weather.
More recent types of stone for tombstones include granite and marble as these are durable.
Nothing is set in stone with regarding the type of material you use and the inscriptions on headstones. You can choose your wording or even make use of ancient and traditional wording such as 'In loving memory of……'
A mere heartfelt message that remembers the Deceased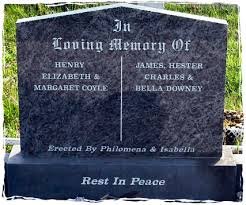 You only want to go with a design that you are comfortable with, are proud of and which is representative of the deceased's life. Most companies who do inscriptions on headstones will have a list of poems and sayings available. That is if you don't feel inclined to create one yourself.
Losing a pet is many times as traumatic as losing a human family member. And today pet owners can also keep the memory of their beloved pet alive with a pet epitaph that honours their pet's life.
Choose Something that will Ensure No Regrets later on

Think carefully about the words you choose so that in several years time, you'll still be pleased with the choice. Some people will tell you to choose words that will make a statement and stand out. But the words you choose are not to impress anyone. Instead they are to bear testimony to the life of the deceased.
There are m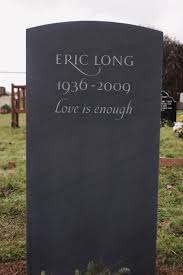 any outstanding memorial makers who offer expert inscription services. Once you have chosen your headstone size, shape, style, material, and other features, they will help you choose the style of lettering to suit your tombstone. However choosing these words is a highly personal decision but they are always available to give you ideas and words that will be appropriate.
Inscriptions on Headstones – keep it simple and from the Heart

There are many people who are few of words and they took short, simple epitaphs. When you read these powerful messages that say it all in just a few words. It will be necessary in any case to find out what restrictions are in place at the cemetery you use.
Longer phrases can also be more expensive, and fitting them in would require a bigger, more expensive gravestone. Short epitaphs can be more meaningful, more affordable and practical too.
Typical examples are –
Rest in Peace
Till We Meet Again
In God's Care
Farewell my Friend
In Loving Memory
There are many inscriptions on headstones as well as matching artwork that will personalise your memorial or headstone and which are far longer.
Some examples are –
 Words can't bring you back – I know because I've tried and neither can a million tears, I know because I've cried a million tears
If every tear we shed for you became a star above, you'd stroll in Angels garden lit by everlasting love
Goodbyes are not forever, goodbyes are not the end, they simply mean I miss you until we meet again.
Remember a Loved One – In Words
The tombstone is the final goodbye. When a loved one is laid to rest in a cemetery, the gravestone that marks their grave sums up their personality and their life. Choose your inscription carefully – it is one last way to create a special magic and to create a 'portrait' of the deceased and what shaped their life.
To get a family funeral plan, please complete the form on this page
and then "click to send"

All info was correct at time of publishing