Colour Themes for Funerals
April 3, 2016
Funerals are a far cry from yesteryear. These days people regard funerals as celebratory. That's why people are planning funerals according to colour themes. We live in a world of options. Many people still prefer traditional black. They like tradition and the formality of black.
The important thing is that the funeral and the colour themes you choose be chosen with care to reflect the life of the person who has died. These days black is still popular and white too simply because it conveys peace. But there is absolute no need to stick to any specific colour unless requested.
More About Colour Themes
Sometimes the next of kin like to choose a colour in keeping with the lifestyle the deceased had. The person may have belonged to a sports club or something similar for instance, and the family may like the idea of using the club's colours for the theme of the funeral. Somebody else may have fought a battle with breast cancer, and the family may choose pink.
Pink, and more specifically the pink ribbon is an international symbol of breast cancer awareness. Wearing a pink ribbon or attaching it somewhere shows moral support. These days in keeping with colour trends, you can even hire a pink hearse or any other colour hearse for that matter to tone in with the theme you have in mind.
Even for a funeral, colour themes are more than just a personal preference – they have the ability to influence emotions and even take on cultural meaning. A basic understanding of colour theory can be useful because it will give you an idea of which colors go well for an event and what kind of an effect it will have. The colours you choose can express certain sentiment and convey feelings.
Meanings of Various Colour Themes
Let's look at some meanings associated with basic colour themes –
●Pink. Pink is an appropriate colour theme for a funeral because it represents caring, compassion and love. With colour psychology, pink is also a sign of hope and it calms and reassures emotional energies.
●Orange. May well be the colour of Autumn, but it is also the colour of sunsets and fire. Orange symbolises warmth and radiance, it is an uplifting color that restores the spirit and is guaranteed to provide emotional strength during difficult times.
You might want to add yellow among your orange as this colour produces a warming effect and is cheerful – enough to bring cheer to any dismal setting.
●Green. Green is the perfect colour if you're arranging an outdoor funeral service. You can even make sure the trees are part of your funeral decor by hanging lanterns, pictures and flowers on the trees. Green table-clothes can can add an unexpected personal touch, especially when you add in small garlands of ivy with flowers entwined as table decoration. Green is an especially great colour for outdoor lovers who have passed on.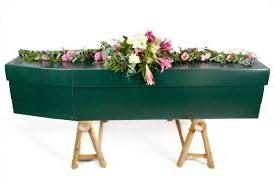 Colour is important because it can bring out different feelings. Blue is a popular colour because of its many positive associations in different countries. It is often associated with calm and peace but it can also represent sadness, and this is in fact where the saying comes from 'I'm feeling blue', so people may want to avoid blue for a funeral. In Thailand the colour purple is a popular choice for funerals because in that country it represents mourning.
What was your Loved One's Favourite Colour?
A funeral is all about honouring the deceased. If they had a favourite color, choose that colour regardless of the norm to send your loved one out in a splash of colour.
To get a funeral cover quote please complete the form on this page and click to submit
Go here for life insurance quotes
All info was correct at time of publishing